UK roads are looking gloomier than ever, with one in five motorists making grey their car colour of choice.
A survey conducted by the Society of Motor Manufacturers and Traders (SMMT) has cemented grey as the UK's favourite car colour, taking the top spot for the second year running.
Driving in monochrome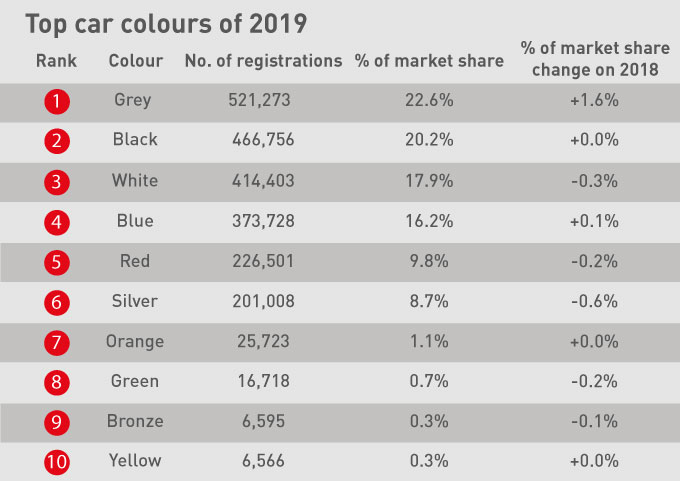 According to the survey, 23% of new car buyers opted for grey in 2019, with every region except Scotland and the Channel Islands choosing to drive away in grey.
The next most popular colour amongst motorists was black, taking second place, with 20% of new car registrations, followed closely by white, which took 18% of the market.
This means three out of five (67%) of new cars purchased in 2019 took to the roads in shades of monochrome, making your daily commute significantly less colourful.
Mike Hawes, Chief Executive of the SMMT, suggests buyers may be opting for alternative ways to personalise their vehicles.
He said: "For most buyers, the colour is the first of many options they'll select on their new car, and today there are more possibilities to personalise your car than ever before."
Yellow makes the top 10
The only new colour to enter the top 10 this year was yellow, replacing cream with 6,566 new car registrations in 2019.
Other colours making up the top 10 included blue, red, silver, orange, green and bronze. 
New cars in maroon, cream and pink, took a combined market share of less than 1%, making them the least popular colours on the road.
"Drivers can choose from many hundreds of models equipped with the latest low and zero emission powertrains, advanced safety and connected tech, and exciting comfort and convenience features," said Hawes.
"There really is something to suit every driving need – and colour taste – on the market in 2020."
Shopping for a new car? Put safety first with our guide to the top 10 safest cars on the road today.