Do you know the warning signs to avoid being scammed?
With car scams on the rise, the DVLA has issued a new warning to prevent drivers from becoming victims of fraudulent messages about supposed unpaid car tax.
Be safe not sorry
This is in response to motorists taking to social media to express their concerns over the fake messages, which attempt to mislead recipients into thinking they've cancelled or not paid tax on their vehicle.
Drivers have also been hit by DVLA driving licence delays due to its backlog of work, with roughly 1.4 million applications waiting to be processed.
As the government agency has struggled to deal with some of these applications for up to six months, it is believed scammers are taking advantage of the situation to profit from people's frustration with the DVLA.
The messages are most commonly received via text or email but can also crop up through phone calls or on misleading websites. They often falsely appear to be from an official government service – such as the DVLA.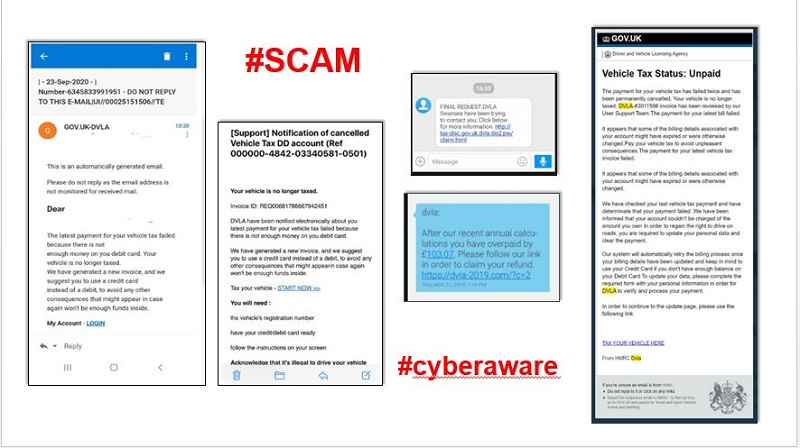 The fake messages usually contain links to other websites, account numbers and vehicle transaction numbers. Some make you part with cash for things that would be free or cheaper with the official government service.
The DVLA tweeted: "New scams crop up all the time and you may be the next target. Make sure you use GOV.UK for DVLA services and information."
The government agency also provides advice for motorists in regards to scams and phishing on the Government website.
This reads: "Report misleading websites, emails, phone numbers, phone calls or text messages you think may be suspicious.
"Do not give out private information (such as bank details or passwords), reply to text messages, download attachments or click on any links in emails if you're not sure they're genuine."
Take action
The GOV.UK website says suspicious emails should be forwarded to report@phishing.gov.uk, so the National Cyber Security Centre (NSC) can investigate.
Text messages should be forwarded free of charge to 7726, which will report the message to your mobile phone provider.
Scam or misleading adverts – such as online, in search engines, websites or on social media – should be reported to the Advertising Standards Authority. You can also report scam or misleading adverts to Google or Bing if found in search results.
If you think you've been a victim of online scam or fraud, contact Action Fraud. You can either report it online or call 0300 123 2040. If you're in Scotland, report the crime to Police Scotland. For more information on how to avoid online car scams, check out our report on online phishing scams targeting motorists.