Horrifying X-ray images released on Twitter show the dangers of allowing passengers to drive with their feet up on the dashboard.
Police shared images of a woman whose pelvis was crushed when travelling as passenger at the time of the crash.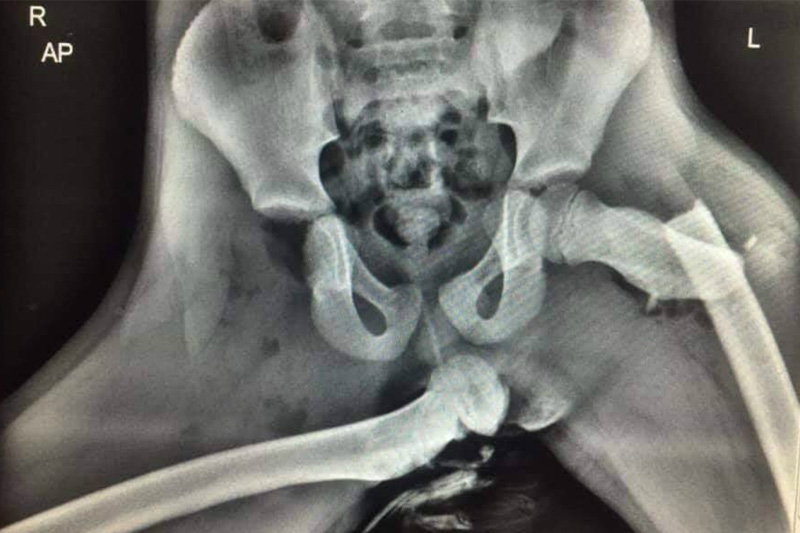 As the image shows, the passenger's right leg was dislocated from the hip in the crash, and the force of the impact was also strong enough to fracture the victim's upper right thigh
Sergeant Ian Price of Dyfed-Powys Police in Wales, issued a grave warning with the image.
His post read: "Here is an X-ray of horrific injuries sustained to the front seat passenger who had their feet on the dashboard at the time of a collision.
"If you see your passenger doing it, stop driving and show them this."
A moment of foolishness
The X-ray image has now received hundreds of shares from users saying they've had their eyes opened to the risk.
"I am 60 and have put feet on dash many times in my life." One man commented. "I know I will be stopping it now and will be sharing this post around everyone I know."
Another man reflected on the tragedy as "a lifetime of pain for a moment of foolishness."
In 2007, a similar incident left 35-year-old Grainne Kealy 'unrecognisable' after a crash in her boyfriend's jeep, breaking every bone in her face and causing her entire forehead to be removed.
And after a woman was seriously injured in a similar situation in the US, the local fire brigade issued a public warning: "Airbags deploy between 100 and 220 MPH. If you ride with your feet on the dash and you're involved in an accident, the airbag may send your knees through your eye sockets."
Obstructed view
Putting your feet on the dashboard is not against the law in the UK, however drivers could be accused of allowing passengers to block their view of the road with their feet.
The Highway Code clearly states "windscreens and windows must be kept clean and free from obstructions to vision."
While the Road Traffic Act states "no person shall drive a motor vehicle on a road if he is in such a position that he cannot have a full view of the road and traffic ahead."
Motorists can be handed £100 on-the-spot fines and three penalty points for driving with an obstructed view. Trying to challenge this penalty incur fines up to £1,000.
Don't put yourself at risk behind the wheel. See the top 10 driving distractions endangering you on the roads.