Police have seized the car of a "prolific road traffic offender" who had amassed a whopping 51 points on his license and had been disqualified from driving.
The Bedfordshire, Cambridgeshire and Hertfordshire Road Policing unit expressed astonishment on Twitter after pulling over a car in Peterborough on Friday.
Prolific offender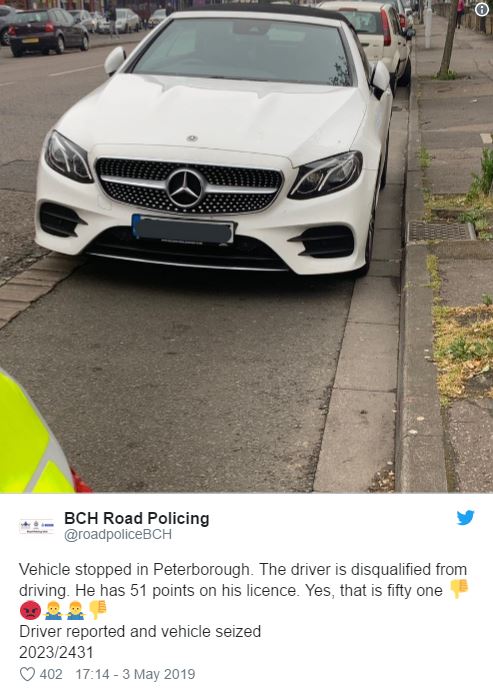 Their tweet read: "Vehicle stopped in Peterborough. The driver is disqualified from driving. He has 51 points on his licence. Yes, that is fifty one."
The vehicle was seized by police and the driver reported.
A spokesperson told the BBC: "He's clearly a prolific road traffic offender and has amassed a significant number of points in a relatively short period of time.
"He was recognised by one of the officers who had given him points previously and knew he was disqualified.
"If he continues to commit offences we will continue to put him in front of the courts and allow them to hand over whatever sentence they deem appropriate."
Driving ban rules
Drivers are typically banned from driving after amassing 12 points on their license, with typical speeding offences resulting in a £100 fine and three points.
However, there are exceptions to this rule, such as if you're caught using your phone within the first two years of passing your test.
Automatic bans can be challenged in cases of 'exceptional hardship', but even then it's difficult to have the decision overturned.
Incredibly, 51 points isn't the record. In 2017, it was reported that a speeding driver was still legally allowed to drive despite racking up 62 points on his license.
Zero tolerance to speeding
Road safety charity, Brake, has backed a "zero-tolerance approach to speeding" and tougher penalties for those caught.
Joshua Harris, Director of Campaigns at road safety charity Brake, said previously: "Speed limits are exactly that, limits, set at the top speed that it is safe to drive on any particular road. 
"Drivers who go beyond these limits are behaving recklessly and endangering the lives of themselves and others."
Harris added: "A zero-tolerance approach to speeding is required, sending a clear signal that breaking the law is not acceptable."
Want to find out more about UK driving laws, why not check out our Rules of the Road hub? It has everything you need to know and more on all the latest motoring laws in the UK and around the world.