Shocking new photos of a crumpled car wrapped around a lamppost have once again shone a light on the very real dangers of wet weather driving.
The vehicle was completely destroyed in the collision, crashing into a lamppost in the central reservation on the M62 motorway in West Yorkshire, closing the road in both directions for nearly five hours.
A horrific scene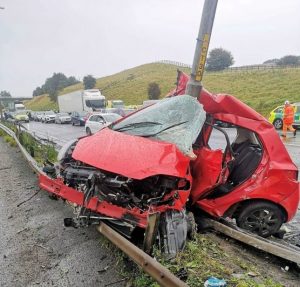 This shocking photo was the result of a "combination of poor driving and wet weather" claimed the reporting officers.
Despite the horrific scene, only one the driver is expected to make a miraculous full recovery after sustaining only minor injuries, but police are urging motorists to take more care when driving in poor weather conditions.
With the car being wrapped around a lamppost, completely destroyed, this photo paints a stark reality of just how dangerous failing to drive to the conditions around you really are.
A lucky escape
The NWMP reported updates over Twitter: "Our officer has been to see the driver today and can confirm that they will make a full recovery.
"The driver and family involved would like to thank those that assisted at the scene and everyone for their well wishes."
Accidents like these are why all emergency services advise you to take extra care when driving in wet conditions
Top tips for driving in wet weather
Heading into autumn, heavy rain and darker evenings are already producing dangerous driving conditions on UK roads.
Before getting behind the wheel, all drivers must ensure their windscreen wipers and headlights are in full working order. Brakes should also be tested and tyre maintenance prioritised, making sure tread is well above the minimum 1.6mm to avoid lack of grip on the roads.
Motorists are also advised that stopping distances more than double in wet weather conditions. Drivers on a motorway in heavy rain need to allow almost 200m to allow a safe distance when driving at 70mph.
Rebecca Ashton, Head of Driver Behaviour at IAM RoadSmart also flagged the importance of keeping on top of your battery's health as the seasons change. She said: "In winter we often place a strain on the battery with lights, heated screens, seats and the air conditioner to demist and keep us warm.
"If there are any sign of your car battery struggling now, it's likely to let you down as it gets colder.
"Drivers also need to stay alert for blocked drains and localised flooding at this time of year.
"Your aim should always be to have a clear view of the changing seasons around you, and for other road users to be able to see you."
For more information on driving in wet weather check out our top tips.