Ever been tempted by a Toyota Prius? It's one of the most popular cars in the UK and the best-selling electric hybrid on the market, but new research has revealed it's also the most accident-prone car in the UK.
According to a study by GoCompare, the Japanese model has been named as the car most likely to be involved in a collision on the UK's roads.
A long-standing favourite of private-hire taxi firms, analysis using government road traffic data found that 111 Priuses in every 10,000 were involved in a collision last year.
Most accident-prone cars
The eco-friendly Prius has rocketed in popularity in recent years, with 71,005 registered in 2016 alone as UK motorists gear themselves up for a zero-emissions future.
Second on the list is the Citroen Saxo, still extremely popular with young drivers despite actually going out of production 15 years ago.
According to GoCompare, 106 in every 10,000 Saxos were involved in a collision last year despite there being only 16,000 left on the roads today.
The third and fourth most accident-prone vehicles were both BMWs – the 330D and the 530D were involved in 102 and 85 crashes for every 10,000 vehicles respectively.
The discontinued Peugeot 106 rounded off the top 5 — 84 in every 10,000 — although Vauxhall was the brand with the most accidents on average, at 62 in every 10,000 cars.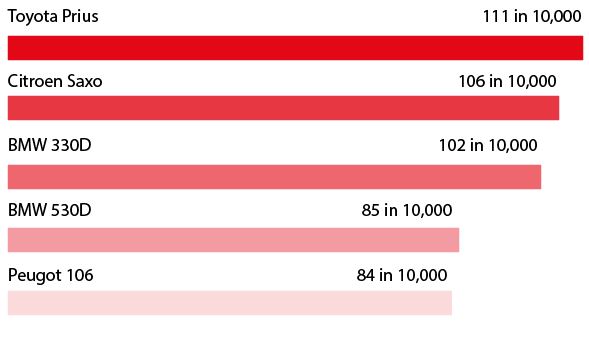 Most accident-prone car brands
By brand, Vauxhall fared worst. There are around 3.6 million Vauxhall cars registered in Britain, and 2016 saw 22,490 accidents involving them.
The 62 accidents per 10,000 Vauxhalls is higher than Daewoo and Seat – which tied for second place with 60 – Mitsubishi (56) and Renault (55).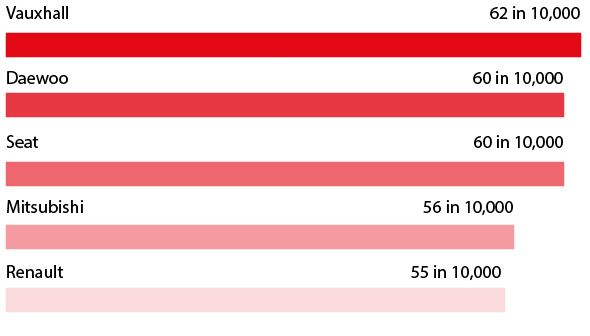 Most accident-prone region
Perhaps unsurprisingly, it's London that holds the title as the most accident-prone region.
This could go some way to explaining the Prius's dominance, as it's incredibly popular as a private hire vehicle.
Around 12,000 examples of the model are thought to be operating as taxis in the capital.
The South East, North West and Yorkshire and the Humber were the next most dangerous regions, while Scotland was the safest – with just 29 accidents per 10,000 vehicles compared with London's 101.
Most accident-prone age group
It's commonly thought that young drivers have the most accidents, but they actually hold second place in this data with 20.5 per cent of accidents involving drivers aged 16-25.
It's the next bracket up – drivers aged 26-35 – that accounts for the most accidents, with 23.9 per cent.
Drivers over 75 were the safest, accounting for just 4.1 per cent of all crashes.
And while you might expect faster roads to be more dangerous, the reverse is true, with the vast majority of accidents taking place on roads with a 30mph speed limit.
What leads to a higher insurance premium?
Lee Griffin, Founding member of GoCompare, said other factors, and not accident rates, were most influential when it came to insurers setting premium costs.
"Cars with smaller engines (under 1000cc) generally fall into lower insurance groups, meaning lower premiums," he said.
"Building up a good driving record and no claims discount in a smaller car means paying less if you do want to move on to bigger, faster cars later."
He added: "Cars with larger engines will fall in to a higher insurance group, as they're more powerful and therefore seen as riskier on the road.
"It's also worth noting that even if you purchase a high group-rated vehicle for very little money, it's still deemed a high risk and potentially not as safe on the road due to its age, therefore carrying a higher premium."
For the latest news and views on all things car-based, head to the 1ST Central Hub and get behind the wheel with everything that's going on in the motoring world.