Hundreds of car number plates which could be considered rude or offensive never make it onto the road each year.
The DVLA has confirmed that it withholds any registrations that it thinks may cause upset or offence on the grounds of political, racial and religious sensitivities or simply because they're in poor taste.
These include any plates with the letters ARS and DAM at the end, according to Information released to BBC Wales following a Freedom of Information (FOI) request.
4-letter words
Several four letter combinations including *B** UMS, *G** ODS and *R** APE are also banned, as well as AB** USE, AN** GER and BO** SOM have all been banned.
A DVLA spokeswoman said: "Many people enjoy displaying a personalised number plate and the vast majority of registration numbers are made available – but we hold back any combinations that may cause offence, embarrassment or are in poor taste."
Slipping through the net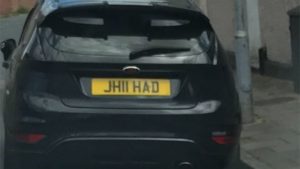 Despite best efforts to identify all combinations that may cause offence, the DVLA's spokeswomen said that on rare occasions potentially poor taste numbers slip through the net and steps are taken to withdraw them as soon as possible.
In 2017 a  Ford Fiesta with the plate JH11 HAD was spotted driving in Newport, South Wales, was reported to authorities.
The DVLA said the personalised plate was bought in October 2016 and wasn't picked up by the system designed to stop offensive registrations being released.
A spokesman commented: "We try to identify all combinations that may cause offence and on the rare occasion where potentially offensive numbers slip through the net, steps are taken to withdraw the number.
Plates resembling jihad, specifically those starting with JE and ending HAD, aren't available to purchase.
19 vehicles – the banned number plates
Here are a few examples of the 19-plate registration which have been removed this year.
BA19 AGS, BO19 OCK, NO19 BER, EA19 POO, FE19 ATE, BU19 SHT, AS19 OLE, FR19 PLY, DR19 GGS, CR19 MES, LV19 NAL, EA19 DKS, DO19 POO, SH19 HOT, MM19 NGE, HU19 DCK, NO19 MUM, NO19 NCE, *S19 AGS.
Banned number plates from recent years
As number plates are banned every year, here are some of the plates that have been banned from circulation in recent years:
BU62GER, SC12OTM, PU15SSY, DR12UNK, AR67 OLE, LE61ESS, AB13ORT, PA12EDO, LU61FER, HE12OIN, BA67 ARD, ST12OKE, P15OFF, JE12KOF, TE12ROR, MA12TYR, PR15SON, DO67 GER, CR12PLE, MU12DER, SH12HED, NA12ZEE, AS62OLE, PE12VRT, DR12UGS, TO62SER, RU13BUM, FF12TUS, KO12AAN, LE12ZER.
Australia testing out emojis on number plates
The government in Queensland, Australia introduced the option to add emojis to your number plates in March this year.
The emojis will cost a little extra and will only be used for decoration, but motorists will have five options – winking face, cool sunglasses, heart eyes, smiley face, and the always-hilarious laughing out loud emoji.
At a cost of $475 (around £260) though, some say the move is simply another way for authorities to make extra money from the demand for personalised number plates.
Want to find out more about number plates? We've got your covered. Take a look at our 2019 ultimate guide to number plates.